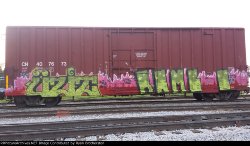 Welcome to the RRPictureArchives.NET contributor site of Ryan Brotherston.

I started taking pictures of trains in late 2014 after being fascinated by the art displayed on such large rolling canvases. Since, I've concentrated a bit less on what's on them and more of what's in them, and how they are basically the backbone of America's commerce. I take these pictures in mainly one location: Panama City, Fla., yet I may also post pictures from other cities from time to time, mainly across the Southeast United States.

You may browse my collection of pictures via the menu located on the left hand side of the page. I hope you enjoy the collection and thanks for stopping by!
Note: This site is best viewed in Internet Explorer 6.0 or above.
Select one of the links from the menu on the left to begin browsing the collection.